François Essindi is a Cameroonian musician artist. Traditional instruments he plays rainforest instruments:
A string (Mvet, Ngomo) traditional harps A wind (flutes pygmy leaf Arc mouth …)
Percussion: nkul (Tam tam call), Ngom (long drum), djembe …)
Body (snail shell and hazelnut) and body percussion
Trained at the National assembly Cameroon, Francis is also an actor and has taken numerous courses in the Goethe Institut in Yaounde and the French Cultural Centre in Yaounde.
Professional actor, musician and storyteller, François worked with several theater companies in Cameroon and a long history with the company Eyala pena a traveling theater company as a composer of music for theater, music workshops for youth or as an actor.
Musically, Francis has always worked in projects.
His first musical project Otoulbaka: http://www.myspace.com/otoulbaka, represented Cameroon at several venues and
festivals in the Unives between 1980 and 2001.
Since 2003, the company of actor Needless theater of the city of Amiens, Francis did not let his dream of promoting culture through traditional instruments of culture Ekang which he was initiated. Traditional harps (Mvet, Ngomo) and others such as: shell snail Flutes pygmies nkul …
In 2005, he initiated the Abakuya musical project with a meeting in Switzerland with an Australian bassist (Jimi Sofo) http://www.myspace.com/abakuya This project will be born two disc auto production including: -Primitive love in 2008 – Abakuya Ep 2010 Francis collaborated with various artists and has benefited from experiences in different cultural projects. (Painting, Music,
African Tales, Theatre, performences …)
Brice Vassy (Cameroon) Madesheerkhan (France) Caroline Chivé (France) Hilaire Penda (Cameroon) Abdelgawad Riad (Egypt), Claudine Françoise (France) Sally Nyolo (France) and many others.
Francois offers and participate in workshops on rhythm, storytelling and the Drama.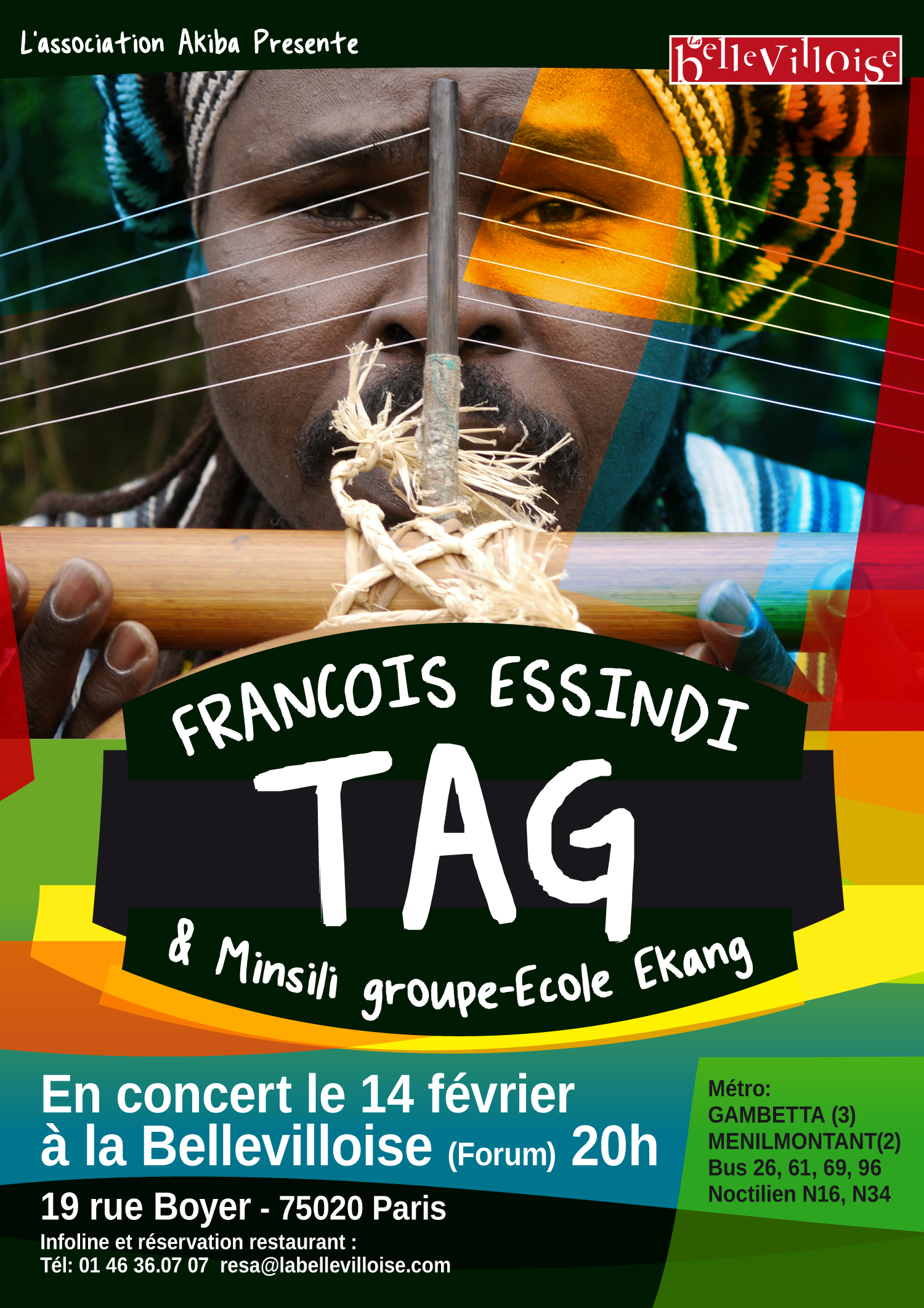 Author of two books and illustrated stories out bilingual editions harmattan François Works also harvest stories, rites and sings fable of culture Ekang (southern Cameroon)
In order that is given to promote the culture and instruments Ekang endangered. François Paris manufactures instruments to make them credible and to share the greatest number.
He goes to meet the artists and instruments of modernity to share his experience and culture in greater numbers. It is this meeting that the project will be born: « Minsili Group TAG Ekang » This project brings together musicians from all backgrounds, machinery and instruments.